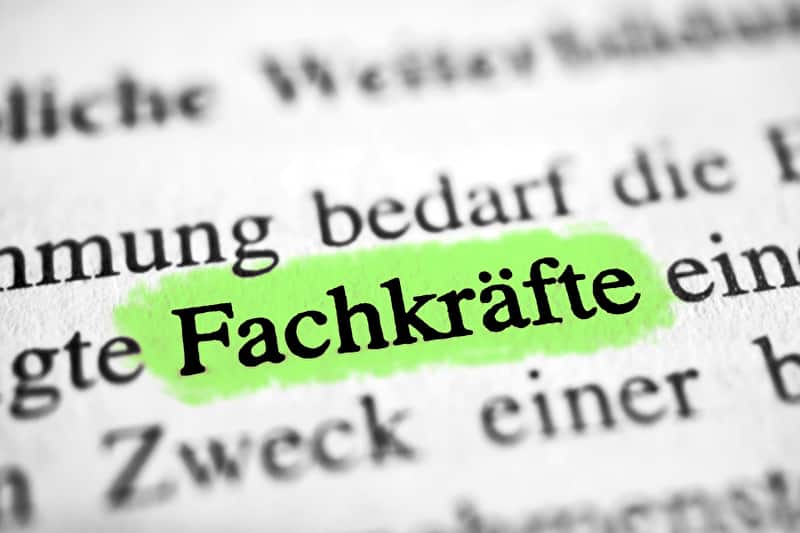 People who come to Germany to work often do not have it easy. Besides the new language and the foreign culture, the bureaucracy in Germany is also a real challenge for many skilled workers. But the fact is: Germany needs the immigration of skilled workers to counteract the looming shortage of personnel.
A reform of the Skilled Workers Immigration Act is intended to facilitate the immigration of skilled workers to Germany. In this article you will learn to what extent skilled labour immigration will be facilitated and what hurdles arise from a legal perspective.
Content:
What does immigration of skilled workers mean?
Business migration is when people from abroad come to Germany to work. There is a particular demand for trained workers who work in sectors that are understaffed in Germany.
This is particularly noticeable in old people's and nursing homes, hospitals and day-care centres (kindergartens). But workers are also urgently needed in the IT sector, in craft businesses and in the service sector.
Migration is a major topic in Germany - especially the immigration of skilled workers has preoccupied the economy for years. Qualified workers are desperately sought everywhere. In 2022, there were around 1.98 million vacancies, a record figure.
For years, skilled workers have therefore been specifically recruited in their countries of origin. The Act on the Immigration of skilled Workers (Fachkräfteeinwanderungsgesetz) therefore made it easier for skilled workers to immigrate as early as 2020.
Because the shortage of skilled workers in Germany continues to grow, a reform was initiated in 2023 that provides for further relief.
When will the new Skilled Workers Immigration Act come into force?
The Skilled Workers Immigration Act, which is intended to regulate and facilitate migration to Germany for skilled workers, has been in place since 2020. The aim is to lower barriers to immigration and reduce bureaucracy.
The Bundestag passed the reform on 23 June 2023.
On 7 July 2023, the Act on the Further Development of Skilled Labour Immigration was passed in the Bundesrat (Upper House)
Some regulations will apply immediately, others will come into force in late autumn 2023 or at the end of the year.
The ordinance on the further development of skilled labour immigration was passed on 29 March 2023. It has not yet entered into force
What does the new Skilled Workers Immigration Act regulate?
The reform of the Skilled Workers Immigration Act removes the time limit on the Western Balkans regulation.
This means that from now on people from countries such as Albania, Bosnia and Herzegovina, Kosovo, Montenegro, Northern Macedonia and Serbia will be able to come to Germany without having to provide proof of professional qualifications. Twice as many, i.e. up to 500,000 people, can also immigrate from these 6 countries annually.
In addition, further facilitations have been introduced:
Qualification: Facilitation with a recognised qualification
In future, anyone with a recognised qualification will be able to work in any qualified occupation. With the so-called EU blue card, people with a recognised qualification can now come to Germany more easily.
The salary threshold is lowered, work experience is reduced and proof of German language skills is no longer required. This regulation applies in particular to IT specialists, who can now obtain an EU Blue Card even without a formal qualification. With a degree, any qualified activity can now be pursued.
In addition, there is no longer a restriction to so-called shortage occupations. From now on, qualified professionals from all sectors can apply for jobs in Germany, even without a so-called priority check.
Skilled workers with professional experience do not need a recognised qualification
People who can prove they have at least 2 years of professional experience may also be able to work as skilled workers in Germany. The qualification therefore no longer needs to be recognised by Germany.
However, there is a salary threshold: Those who do not reach this will still have to have their degree recognised in the future. This is to ensure that skilled workers also have prospects in Germany and that there is no exploitation.
Potential: Immigration possible even without a secure job
For people who do not have a job in sight in Germany but have potential for the labour market, there is a so-called Chancenkarte or "opportunity card". This allows skilled workers to immigrate even without a secure job.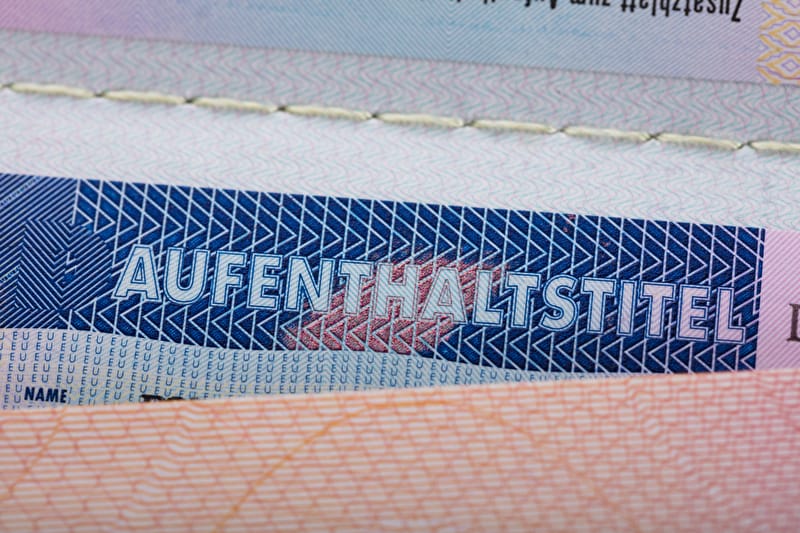 You can find all important information on the topic of the opportunity card here.
The potential is evaluated with a point system consisting of
Qualification
Work experience
German and English language skills
Potential of the (marriage) partners
Age and
Reference to Germany
In addition, it is now possible to pursue other employment while looking for a job (maximum 10 hours per week) and to take up a trial employment with a potential employer.
Why does Germany need skilled workers from abroad?
In Germany, as in many westernised countries, there is a demographic change.
In relation to Germany, this means that for many years there have been significantly fewer children born (per woman approx. 1.3 to 1.5 children). This means that there are fewer young people in Germany who can enter the labour market and "move up".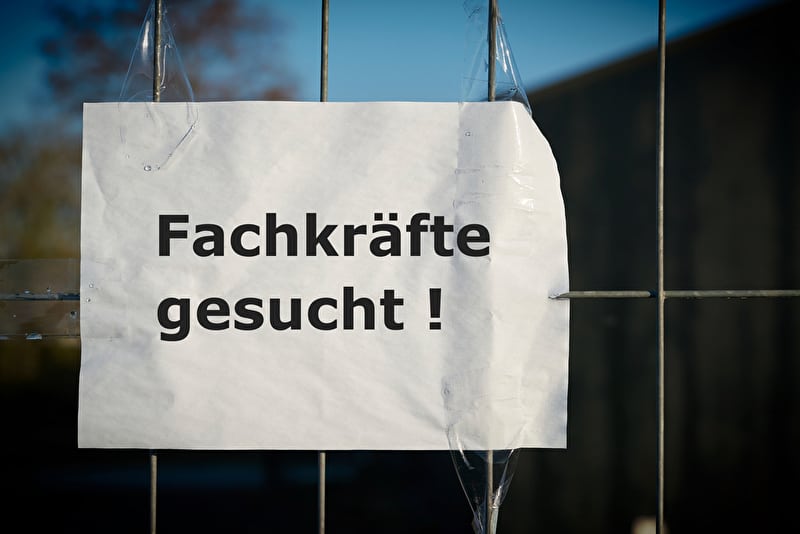 At the same time, many people are retiring. If the baby boomer generation retires and receives pensions from the German state without enough young people paying into the pension system, the economy suffers.
So Germany needs more people again who support the pension system through their work.
In addition, more and more young people are graduating from high school (Allgemeine Hochschulreife, Abitur) and going on to study. During this time they are not available to the labour market. Afterwards, they also pursue office jobs more often, which leads to fewer and fewer social professions such as care or education being chosen.
Globalisation and digitalisation are creating innovative industries that are important for the German economy. However, there is often a lack of well-trained staff here. Especially in the IT sector, Germany is therefore looking for specialised people who can help boost the German economy.
How can skilled workers from abroad stay and work in Germany?
Skilled workers from abroad can apply specifically for jobs in Germany. In return, German companies can specifically search for foreign skilled workers. Employers can also apply for an accelerated procedure for skilled workers (§ 81a AufenthG).
In order to enter Germany as a skilled worker, the following requirements must be met in principle:
A qualification recognised in Germany
German language skills of at least B1 level
No social benefits while looking for a job (there must be enough money to support oneself)
Proof of subsistence with a blocked account
Health insurance and proven accommodation
The job found here must provide a livelihood
The work must be at least 35 hours per week
Exceptions apply in particular to IT specialists, but other exceptions may also apply.
We would be happy to check the applicable requirements in your individual case.
It is also possible for the family to join you. What is new is that not only partners and children are allowed to come to Germany, but also parents and parents-in-law. However, their livelihood must be secured; they are not entitled to social benefits.
Specialised lawyer for migration law and aliens law
Despite facilitations for international skilled workers and the plan to reduce bureaucracy, entering the labour market in Germany is still a challenge. There are many documents and applications that have to be filled out on time. At the same time, there are many requirements and regulations that need to be understood and fulfilled.
For someone who is just learning German and wants to make a new home in Germany, dealing with authorities and employers is often difficult.
An experienced lawyer can support you with all bureaucratic and legal steps, inform you about the legal situation and advise you individually on your concerns. This way, you can not only be sure that you are doing everything right, but also have more time to arrive in Germany.
We are pleased to support you in your immigration to Germany as a foreign skilled worker. We have already advised and accompanied many skilled workers from abroad so that they have successfully made it into the German labour market step by step. Please feel free to contact us at any time for a personal initial consultation.
Make an appointment
Picture credits: Kiwar | heiko119 | pantermedia.net